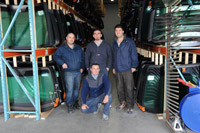 When you encounter an accident, and you are in dire need to replace your windshield glass, it is very important to seek the services of a professional. Professionals will be able to replace the glass within the correct time in order to avoid further cracks hence calling for major auto glass replacement in Toronto which might be very costly to you. In Toronto, temperature variations are known to increase the magnitude of the cracks, hence a professional will be able to determine the extent of the crack thus attend to it within the required time avoiding further damage.

A professional is better placed to determine the kind of replacement that should be done. Remember, in other cases, the extent of the cracks may not need a replacement but only needs a repair. Therefore it is advisable that a professional determines what should be done and will save you time and money. When you choose auto glass replacement in Toronto, consider the costs that you are likely to incur. A professional for Toronto auto glass replacement will be able to asses the extent of the damage and give you the right figures that you are likely to pay for the replacement. Remember other people may just be in the business for the sake of making profits but with a professional you will be advised accordingly.

A professional will be able to use the required tools and incorporate the latest technology on auto glass repairs in order to give a long lasting and firm glass. By doing so, it will eliminate chances of problems arising due old technologies and furthermore, eliminate chances of unnecessary glass breakage even with the slightest impact.

Therefore, when you are faced with a situation that needs auto glass replacement, seek the services of a professional for quality services. Whether it is a ding on the windshield or a simple chip or crack, you can always visit companies which offer auto glass repairs in Toronto and they will be able to offer the necessary and correct replacement for you glass. Visit a company that you trust and offer professional services for better and quality Toronto auto glass replacement.
Unity Auto Glass Supplier
154 Norfinch Dr. Unit 3 North York, ON. M3N 1X6

Phone: 416.740.1957
Fax: 416.740-7585