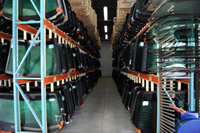 With Toronto Mobile Services, there is a small crack or divot or a loose piece of glass in a windshield can get worse over time and potentially lead to a car accident, it is important to either replace your windshield or have it repaired as soon as possible. However, knowing whether to replace your windshield outright or have it repaired is a decision that you will have to make, and going into the glass repair shop armed with some information can benefit you quite a bit.

Depending on the size, depth, and placement of the damage done to your windshield, let out car glass windshield technician do the job, actually repairing the glass can range from the damage of the glass and depends on the price too. Generally, most damages done to the windshield may be repaired. If the damage is more severe, then your car requires an outright replacement of the windshield. You should also be acquainted that even when repairs can be done to windshields, the glass will often leave a minor distortion where the crack once was and being repaired. While some people have no problem allow this distortion, it may greatly affect drivers' vision if the distortion lies directly in the line of vision. Due to this, the expert will suggest that you may prefer to replace the windshield absolutely.

If your windshield needs repair work or possibly replacement, there are a number of different auto glass repair services which can handle the repairs for you. Automotive glass specialists can usually be found in major cities, and are capable of both repairing and replacing windshields. Alternatively, there are Mobile Service Toronto facilities in some cities, and while they cannot replace windshields, they can repair most damages. Finally, new car dealers equipped with mechanic garages can usually take care of the problem for you, but you will often spend more money here than you would at a specialist shop.

Regardless of which route you decide to take, it is important that you get your Mobile Serviced or replaced as soon as possible. Few things can be as dangerous to a driver as impaired vision, or, even worse, a windshield that cracks in a spider-web shape while you're driving it. Have your car glass be fixing with Toronto Mobile Service.