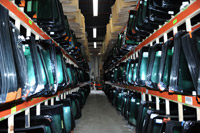 If you have ever been searching about the auto glass repair process, you have come to the right place, as this process is actually much simpler than it would seem. For beginners, it does not take as long as many people believe, which makes it much more doable. Numerous people do not get their glass repairs done because they believe it will take a long time, when the truth is that it can be completed in a couple of hours. As long as you get the glass repaired immediately by Auto Glass repair services in Brampton, you will not have to worry about replacing it for quite some time, which is a great financial easement for anyone who has a broken windshield.

The first thing that is done is a protective enwrap is put over the vehicle in order to prevent damage. The Brampton Auto Glass Repair masters who are repairing your glass do not want to scratch up your vehicle in the process; they will do everything in their full account to protect it. Once the car has been completely protected, they will begin inspecting the glass in order to figure out exactly what needs to be repaired. Next, the chip or crack will be cleaned completely, which will ensure that a quality job is done on your auto glass repair. Any debris must be cleaned out and any moisture must be removed in order for the repair to run as smoothly as possible. This shows you that Brampton Auto Glass Repair can be trusted and a reliable auto glass repair service center.

Perhaps the most well known part of auto glass repair is when a resin is inserted into the damaged area with an injector. This resin is used to not only repair the glass, but also to seal the area, which will prevent the damage from spreading in the future. Each repair shop has their own system of doing this, but the results are usually the same because similar injectors are used. Once this part has been completed, Mylar is placed over the resin in order to keep it in place and seal it once again. This will make sure that the resin is completely flat, which will prevent further damage as well. An ultraviolet light is then used to harden the resin, which will also ensure that no additional damage is done and that the repair is a permanent one. Finally, the Mylar is removed and any extra resin that might be present is scraped away. The crew of Brampton Auto Glass Repair will polish your windshield and you will be ready to go.