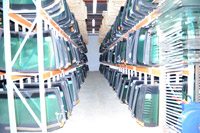 Windshield damage in the front drive especially in the driver's line of vision is always more sophisticated than windshield chips or cracks located elsewhere and needs to be replacing as quickly as possible to avoid as resulting a car accident.

Being a professional driver requires a lot of care for the car you drive. This is the reason when you need Toronto cracked windshield repair, you don't go to the first auto service. You search for a windshield replacement company that has trained windshield installer; Cracked Windshield Repair Toronto offers a high quality windshield replacement service. That situation is valid not only for those who need to completely replace the windshield of the car but also for those who are interested in Mobile Service Toronto.

Mobile Service will not only restore but also revive the structural integrity of the glass and make the vehicle look better, but windshield replacement will actually return your car to its original level of safety. A cracked or chipped windshield can never be considered as functional and restores the car perfect image and it is only logical that the repairs should be done quick and in an efficient manner. On the other hand, if the damage is too extensive, then you should consider cracked windshield replacement Toronto, installing in a new windshield on your precious car.
Unity Auto Glass Supplier
154 Norfinch Dr. Unit 3 North York, ON. M3N 1X6

Phone: 416.740.3697
Fax: 416.740-7585