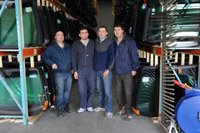 There are very many possible causes of windshield service in Toronto and even car window glasses breakage. One of the most common causes of this destruction is due to accidents. When this happens, it is good to seek the help of an auto glass repair company who will make the replacement for you. The fact that you have to leave your car at the shop for the duration of the repair may be very inconveniencing. However, with auto glass in Toronto, you are not only assured quality service but also the convenience of having your car back in no time.

Since not all cracks on your car glass, be it the windshield or side mirror is the same, auto glass in Toronto service providers will offer you a customized service solution to your particular problem. They have trained and skilled experts who will offer you the right advice on what you should do with the damaged glass on your car. If the damage is more severe they will make the right replacement for you. You can be assured that they will use only the best quality materials in the market. Furthermore, you will have your replacement done by highly qualified and approved technicians. This way your car can meet any of the require inspection standards.

One of the reasons why auto glass in Toronto is very popular is due to the fact that they strive to offer the client professional help at the minimum time as possible. They also offer mobile home services. They have a team of experts who can do the replacement and repairs for you in your home, your place of work or wherever you need them. This makes for a fast and hassle free service. Some of he services that you can expect include the replacement of windshields, installation of door glass or back glass, hauling away of broken glasses for free, free mobile services and a warranty that will last you a lifetime.

Toronto Auto glass service providers also offer their service at discounted prices. This is most exclusively offered to car dealers or those operating fleets. This is provided to business owners who would like to have more than 5 of their vehicles or fleets fitted with new auto glass within a given month.
Unity Auto Glass Supplier
154 Norfinch Dr. Unit 3 North York, ON. M3N 1X6

Phone: 416.740.3697
Fax: 416.740-7585